It's All in the Mix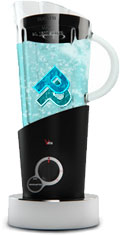 We'll use the appropriate technologies and tools to get the job done. Some of our favorites are:
ASP.NET MVC
Microsoft SQL
HTML5
CSS
Responsive Design
jQuery Library
AJAX
Umbraco CMS
Adobe Photoshop
Adobe Flash
Autodesk 3ds Max
Abelton Live
Content Management System (CMS)
While many of our clients call on us regularly for maintenance changes, we like to empower you to self-manage sections of your Web site that may change often. We can build for you a password-protected backoffice where you can login and make changes to content, view orders, change news articles and events, upload pictures, and any other element that you'd like control over. Our CMS of choice – Umbraco – is extremely easy to use, just in case you don't consider yourself much of a techie.
Device Platforms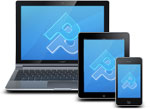 We create for diverse platform requirements:
Desktop computing
Mobile-friendly, responsive design interfaces
Interactive kiosks with touch-screen input
Off-the-Shelf vs. Custom
We can use off-the-shelf products to keep the cost down, or create a completely customized solution; the choice is yours. Our typical e-commerce solution is feature-rich and is already setup for common shipping and payment solution integration.
Hosting
We offer full Web site hosting services, including shared hosting at $25/month, cloud hosting and dedicated server leasing. IT costs can be very expensive, yet for as little as $250/month, we can get you setup with your own cloud server and include our IT management services at no additional monthly cost. Our server facility is state-of-the-art and is located only 45 minutes from our office. All of our sites and their databases are backed up on a nightly basis and are monitored 24/7.
---
No matter what the detailed particulars your individual project may have, let us know how we can help!
LATEST
Coming soon:
New site for American Automotive Lifts
We just signed on a new microsite project for this Atlanta, GA-based reseller of high quality automotive service products.
February 20th, 2018
Just launched:
New site for Sprimo, manufacturer of the world's smallest air quality monitor
January 26th, 2018
Coming soon:
New site for Sprimo.com
Sprimo is the manufacturer of the world's smallest air monitor, which plugs into your mobile device to give you real-time readings of air quality, temperature, and humidity.
November 1st, 2017
Just launched:
Secure, multi-featured backoffice for UPODS
The new system gives UPODS the ability to manage all orders, customers and products, plus enables their distributors to login securely and place orders, which calculates commissions owed to their sales reps, saving a ton of accounting overhead time for UPODS.
May 16th, 2017
Just launched:
New site for internationally-recognized leader in high-end professional scanners, ScanSolutions
December 15th, 2016